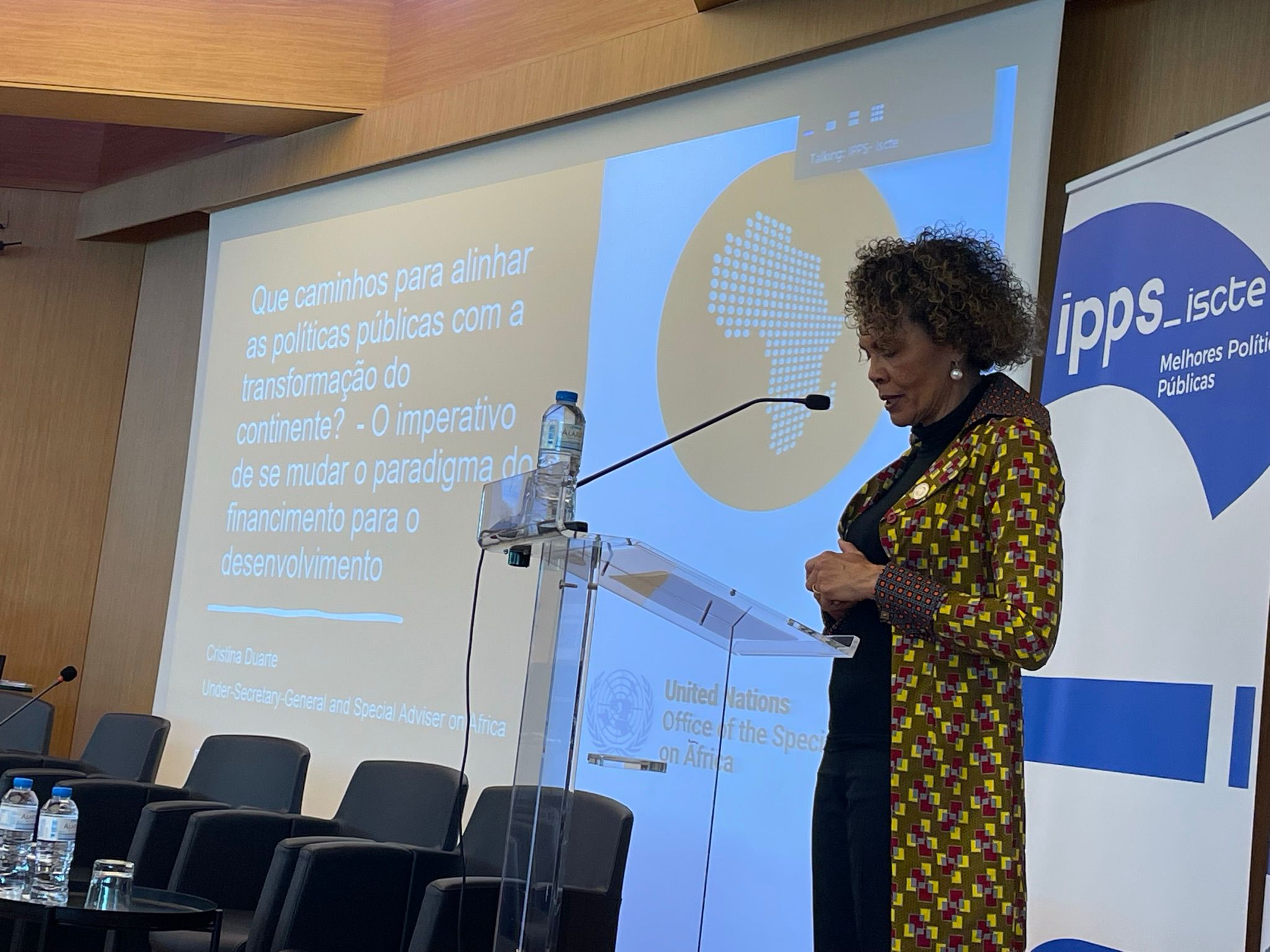 The Gender Equality Seal for Public Institutions was presented in the Prop-PALOP Forum, that took place Lisbon from 20 to 21st April, as a mechanism for advancing gender mainstreaming in Ministries of Finance.
Pro PALOP-TL (Program for PALOP-Timor-Leste) is a project funded by the European Union and led by UNDP, focused on strengthening public financial management in six Portuguese speaking African countries (Angola, Cabo Verde, Guinea Bissau, Mozambique, Sao Tome, and Principe), and Timor-Leste.
The initiative is fully aligned with UNDP Strategic Plan 2022-2025, which clearly demands UNDP to integrate a strong gender equality lens in all areas of work, from poverty to governance or environment, including development financing. Alongside, UNDP Gender Equality Strategy 2022 – 2025 acknowledges that gender inequalities prevail as the economic and social structures that generate discrimination remain mostly unchanged, and therefore has elevated its ambition to shift them. As part of the strategy, one of UNDPs moonshot is to help align and leverage 100 billion USD to contribute to gender equality through fiscal policy reforms and private capital.
The Pro PALOP-TL program also offers an innovative learning and training initiative with already more than seven community of practice events benefitting more than 400 senior staff, policymakers, auditors, and heads of state financial institutions in the participant countries.
The II Prop-PALOP Forum brought forward recent progress in Public Finance Management reforms carried out in participant countries Participants exchanged views on the impact of emerging challenges in Public Finance Management Systems (PFMs) such as climate change, innovation and digital transformation, social inequalities including gender inequality. Participants discussed the African continent structural transformation, sustainable and inclusive growth Agenda, and the central role that accountability and transparency play today for the development aspirations of African citizens.
During the second day of the Forum the Round Table "Public Finance and Gender Equality in PALOP-TL" took place. Key speakers included Celmira Sacramento, Member of Parliament and President of the National Assembly of São Tomé and Príncipe, Lúcia Passos, Member of Parliament of Cape Verde, Idalina Valente, Member of Parliament of Angola and Ana Landa, UNDP Global Coordinator of the Gender Equality Seal for Public Institutions.
Despite gender budgeting becoming more present and visible in public finance management, there is yet limited work on the links on gender and taxation. Whenever, very scarcely, there are efforts in both directions, revenue, and expenditure, we see they are mostly disconnected.

Ana Landa Ugarte, The Gender Equality Seal for Public Institutions program manager
Moreover, Ana stressed that public financing institutions not only need to understand why integrating a gender perspective is important for their work, but also how to mainstream gender principles in a practical way.
The participants in the roundtable highlighted the role of women caucuses within parliaments to push for more gender responsive budgets, and to move forward from just budget planning exercises to budget implementation towards addressing gender inequalities. They underlined the need for women's organizations oversight of the public budget and stronger accountability of ministries of finance and line ministries on their contribution towards SDG 5 goals.
---