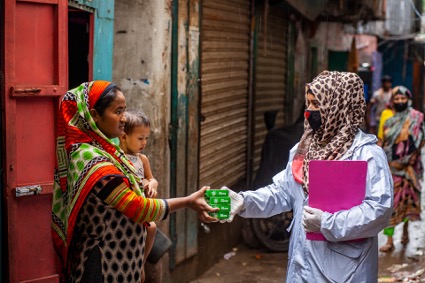 On 23 June 2022 UNDP and UN Women held a collaborative virtual event to launch the report titled "Government Responses to COVID-19: Lessons on gender equality for a world in turmoil", wherein policymakers and civil society activists discussed the practical implications of the COVID-19 pandemic response on policymaking decisions moving forward. The event focused on the findings of the report which were drawn from the COVID-19 Global Gender Response Tracker, a tool which has monitored the gender dimensions of COVID-19 responses from governments worldwide from 226 countries and territories.
The event began by explaining the impact of the current world crises which have exacerbated existing gender inequalities including the ongoing climate crisis, the war in Ukraine, and the COVID-19 pandemic. 
Out of data from 226 countries, women were just one out of four global COVID task force members.
There was an uneven gender structure which played during COVID, signifying that gender equality should be considered a governance issue. Further, speakers elaborated on the potential of the report to reveal what governments can do in the present time to prepare for the next shock to their country or the world, specifically the steps which policymakers and practitioners can take to continue to address the issue of gender inequality.
The findings of the report included the realization that traditional resource allocation and crisis decisions clearly need to be altered in the wake of the pandemic. Various worldwide crises include sexual violence, food insecurity, rising inflation, climate disasters; these all have a disparate impact on women and girls economically and socially. Report findings identified that worldwide crisis is the "new normal", but UN member states can learn to respond more effectively. Drawing insight from women of all backgrounds will be essential to reforming government responses. Research found large gaps within countries in COVID-19 response, but some countries very effectively addressed gender concerns in their responses. The global response was found to be ineffective in responding to gender crises, and the gender dynamics inherent within such crises. Notably, it was found that women's economic security and unpaid care were not prioritized: data showed that only 12% of social protection/labor policies addressed women's economic security and only 7% supported unpaid care work.
 The report identified the following 5 important lessons on gender equality: (1) strong institutions are necessary for an inclusive gender response, (2) women's participation/leadership across gender-responsive government action, (3) countries with more robust and social protection systems have a head start, (4) focuses on how digital tools can enable feminist activism online & enable the rollout of support, and (5) data collection is very important to forming government response/recovery. 
Finally, both policymakers and civil society actors from Fiji and Kenya were highlighted in the presentation to address their respective countries' responses to the COVID-19 pandemic. The Minister of Fiji gave a presentation which recognized the national failure to address violence against women during the pandemic. The country's response was a working group which was developed to draft gender response guidance, with the rapid development of education and prevention materials. A civil society actor from Kenya divulged the country's success, including: making sure women had key positions on recovery committees, identified care work as a policy priority, addressing unpaid care & domestic work national policies, an economic stimulus package, and rapid assessment which put women onto key economic committees. Finally, civil society actors from various country case studies divulged their experiences with their countries' gender-based violence responses.