During July 21st and 22nd, UNDP and the Gender Department of the Intergovernmental Authority on Development (IGAD), one of the four Regional Economic Commissions for Africa (RECs), held a 2 days' workshop on the Gender Equality Seal for Public Institutions (GES PI) in Djibouti, with the support of the Canadian International Development Cooperation Agency (CIDA).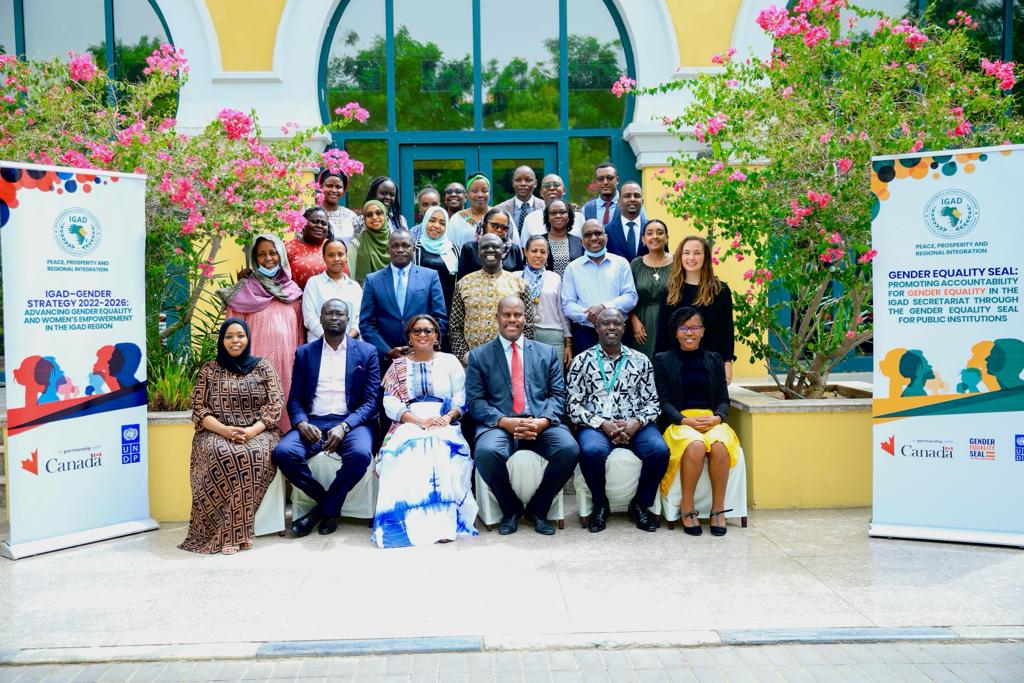 Public Institutions play a vital role in advancing women empowerment and gender equality. The Gender Equality Seal for Public Institutions (GESPi) aims to support IGAD to advance equality between women and men both in its policies and programs and in its working environment, accelerating its contribution to the fulfilment of the 2030 Agenda and African Agenda 2063. The GESPi provides a road map to identify and support institutional reforms for effectively mainstreaming a gender perspective, increasing institutional effectiveness and impact.
The awareness training had three objectives: 1) to enhance IGAD's key staff understanding of the Seal goals, objectives, principles, and its relevance to IGAD; 2) to support the customization and contextualization of the Seal program to IGAD Secretariat; and 3) to establish a core team that will coordinate and support the implementation of the Seal across IGAD and its Member States.
Thirty participants from 8 different countries – Sudan, South Sudan, Djibouti, Eritrea, Uganda, Kenya, Ethiopia, and Somalia- from the different departments of IGAD's Secretariat, together with UNDP global and regional gender teams, were present in the training. IGAD's Executive Secretary Mr. Workneh Webeyehu addressed the participants and underlined IGAD's commitment with the gender equality and women's empowerment agenda and the Gender Seal roadmap.
During the awareness workshop, participants had the chance to discuss and reflect on the status of gender mainstreaming in the organization, opportunities, and challenges, along the Seal five dimensions for action. They discussed how planning and management for gender equality is essential for IGAD to be capable of planning, assigning financial resources, monitoring, evaluation and having an impact on addressing the prevailing and persistent gender gaps in the IGAD region; analyzed IGAD's gender architecture and capacities and discussed ways to strengthen it; reflected on IGAD's institutional working environment and opportunities to advance on ensuring an equitable working environment; analyzed the need for better citizenship engagement and institutions accountability within the 2030 Agenda; and finally reflected on the importance of showing results that objectively contribute to gender equality.